The excursion to the Albert Canal bridges starts and ends in Eindhoven, Building Vertigo. The journey is organized by bus transfer in collaboration with FRANKI CONSTRUCT NV. Participants have to wear sturdy shoes. Shoes, helmets and safety vests will be provided. We start at 9.30 hrs. and return to Eindhoven at about 15.30 hrs. Three construction sites are visited as mentioned below.

Construction site "BR08 Zutendaal" (visualization)
The rebuilding of seven road bridges over the Albert Canal is part of a project with the aim to increase the clearance height under the bridges along the whole of the Albert Canal. A minimum of 9.10 meters is desired. An increased clearance height enhances the profitability of the inland navigation in general. It also boosts container shipping in particular. The Vlaamse Waterweg has designated Via T-Albert with a PPP-contract to renew the seven bridges over the Albert Canal. Via T-Albert is a joint-venture, especially founded for this project and the members of Via T-Albert are Willemen Infra, Franki Construct, Aelterman and Hye. With this contract, they agree to a public-private partnership for the design, building and financing of the project. The joint-venture is also responsible for the maintenance of the 7 bridges for a period of 30 years.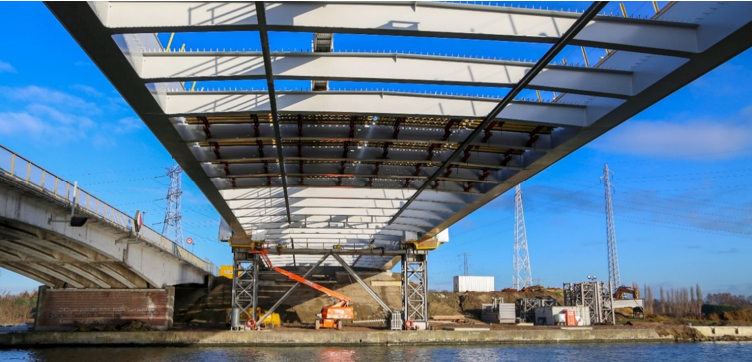 Construction site "BR32 Ham"
It concerns the bridges in Eigenbilzen, Zutendaal, Stokrooie, Kwaadmechelen Zwartenhoek, Eindhout, Geel-Stelen and Herentals-Lier. At all locations, bridge type is similar. However, the construction phasing is different. The final design by the joint-venture has been made from a reference design as part of the tender documents. The final design consists of a steel bowstring bridge with steel arches coming together in the central part of the arch. The span length is 128 m. The deck consists of steel main and transverse girders with a concrete deck plate on top of it. The deck and the arches are connected by slender full steel hangers.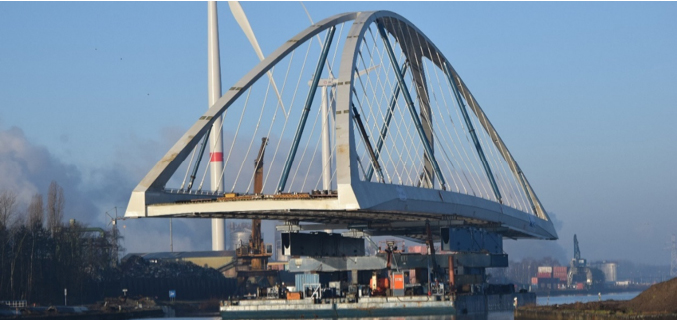 Construction site "BR36 Eindhout"
During the excursion, we have the unique opportunity to visit 3 different construction phases of the bridges. We will visit the bridge BR08 in Zutendaal as the least advanced bridge, the bridge BR32 in Ham (Kwaadmechelen) in erection on the spot and the bridge BR36 in Eindhout as it has been made in advance at another construction site and moved by pontoons to its final location. The termination of the construction works is foreseen for May 2020. During the project, special attention is paid to prevent inconvenience as much as possible. Therefore, the Vlaamse Waterweg and Via T-Albert are involved in a dialogue with the communities and other stakeholders. This excursion will be guided by the contractor and will be presented partly in Dutch, partly in English language.