IABSE
IABSE is a fellowship of structural engineers operating on a worldwide basis, with interests of all type of structures, in all materials. It acts to improve our knowledge and understanding of the performance of structures, covering concepts, analysis, design, construction, operation and maintenance.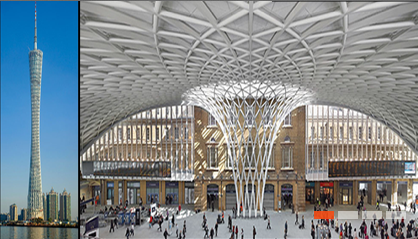 Op woensdag 25 januari 2017 organiseert Bouwen met Staal samen met IABSE Nederland het seminar "IABSE - materialen en hun constructieve eigenschappen" (klik op deze tekst om naar het programma te gaan).
Op 31 maart 2017 organiseert IABSE het 4th Young Engineers Colloquium. Klik hier voor de folder (als pdf) om u aan te melden als bezoeker of, uiterlijk 18 december, om u aan melden als spreker.
Its members represent structural engineers of all ages, employed in design, academe, construction, regulation and renewal; many of its members occupy senior roles based on a history of personal achievement.
Membership of IABSE is open to all qualified structural engineers. IABSE publishes its journal, Structural Engineering International, organises technical development through its Working Commissions and Working Groups, holds conferences – including its large annual event every September – produces guidance documents and, above all, offers opportunities to mix with, to learn from and to benefit, by association with like-minded structural engineers from across the world.
For young engineers this means meeting eminent practitioners, making contact with other enthusiastic engineers and becoming part of a group committed to the furtherance of their subject.
For established structural engineers, whether working in academe or practice, it means expanding their range of international contacts, developing the possibility for new collaborations and being accepted into the worldwide community of structural engineers.
For companies this means increased access to and visibility within the worldwide structural engineering community, together with increased availability of new information, new perspectives and new contacts.
Strategisch plan IABSE Nederland
Huishoudelijk reglement IABSE Nederland